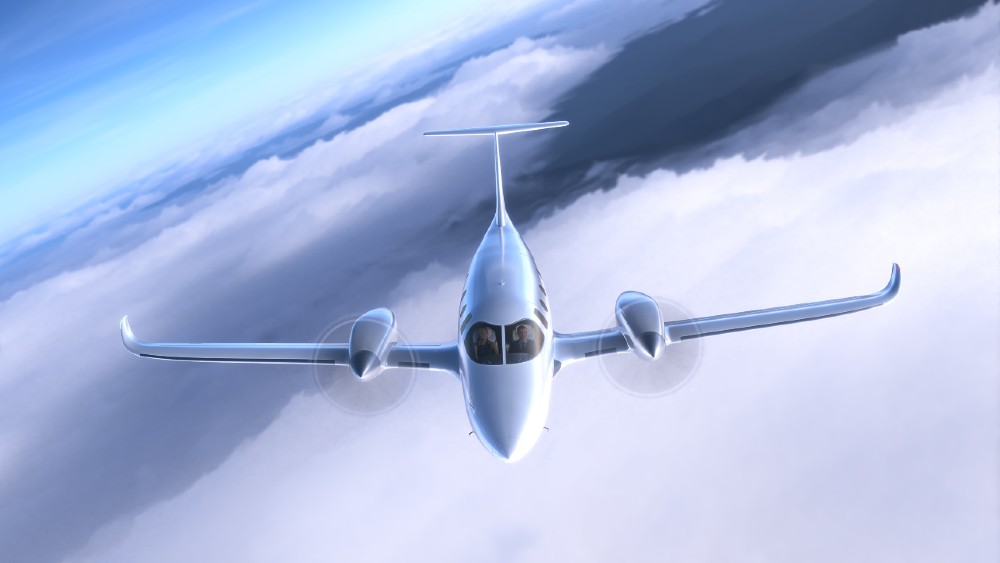 eFlyer 800 : this New 8-Seat Electric private Airplane Costs 80% Less to Fly Than Conventional Aircraft
600 km/h, 900 km range: new private e-plane could connect cities
The US aviation company Bye Aerospace has announced an eight-seat, fully electric twin-turbo-prop class aircraft: the eFlyer 800. It's an eight-seat electric aircraft that could one day connect cities as an air taxi, or be used as a private plane. With a top speed of 600 kilometers per hour and a range of 900 kilometers, it should be the first fully electric aircraft that can offer "the performance and safety of a twin turboprop aircraft" even without CO2.
Performance-wise, it's among the top five fastest twin-engine turboprops
The performance data of the eFlyer 800 indicate an altitude of almost eleven kilometers, a cruising speed of 520 km / h and a top speed of almost 600 km / h. According to a press release, the range of the electric air taxi should be up to 500 nautical miles – the equivalent of 926 kilometers. In addition, there should be a battery reserve that allows an additional flight time of 45 minutes. The plane is projected to have a speedy ascent of up to 3,400 feet per minute. Bye said that puts it among the top five fastest twin-engine turboprops.
The aircraft should have space for six or seven passengers and one or two pilots. The safety features include two electric motors mounted on the wings, each with two redundant motor windings, four redundant battery packs and a complete set of parachutes. According to the manufacturer, other planned features include an automatic emergency landing system, terrain avoidance and routing for automatic emergency landing as well as an option for additional solar cells and an additional electric motor for locomotion on the ground. Bye Aerospace has high hopes for the air taxi:
80% less operating costs
The eFlyer 800 is said to have only a fifth of the operating costs of conventional twin-engine turboprops. "The eFlyer 800 is the first all-electric propulsion aircraft that achieves the performance and safety of a twin turboprop aircraft with no CO2 and extremely low operating costs," said George E. Bye, CEO of Bye Aerospace. "This kind of remarkable economy and performance is made possible by the electric propulsion system and advanced battery cell technology, which results in a significantly higher energy density." Bye Aerospace has already sold more than 700 electric planes.