Terrafugia's Transition has a Special Light-Sport Aircraft certificate, but it needs to be finished to be street legal.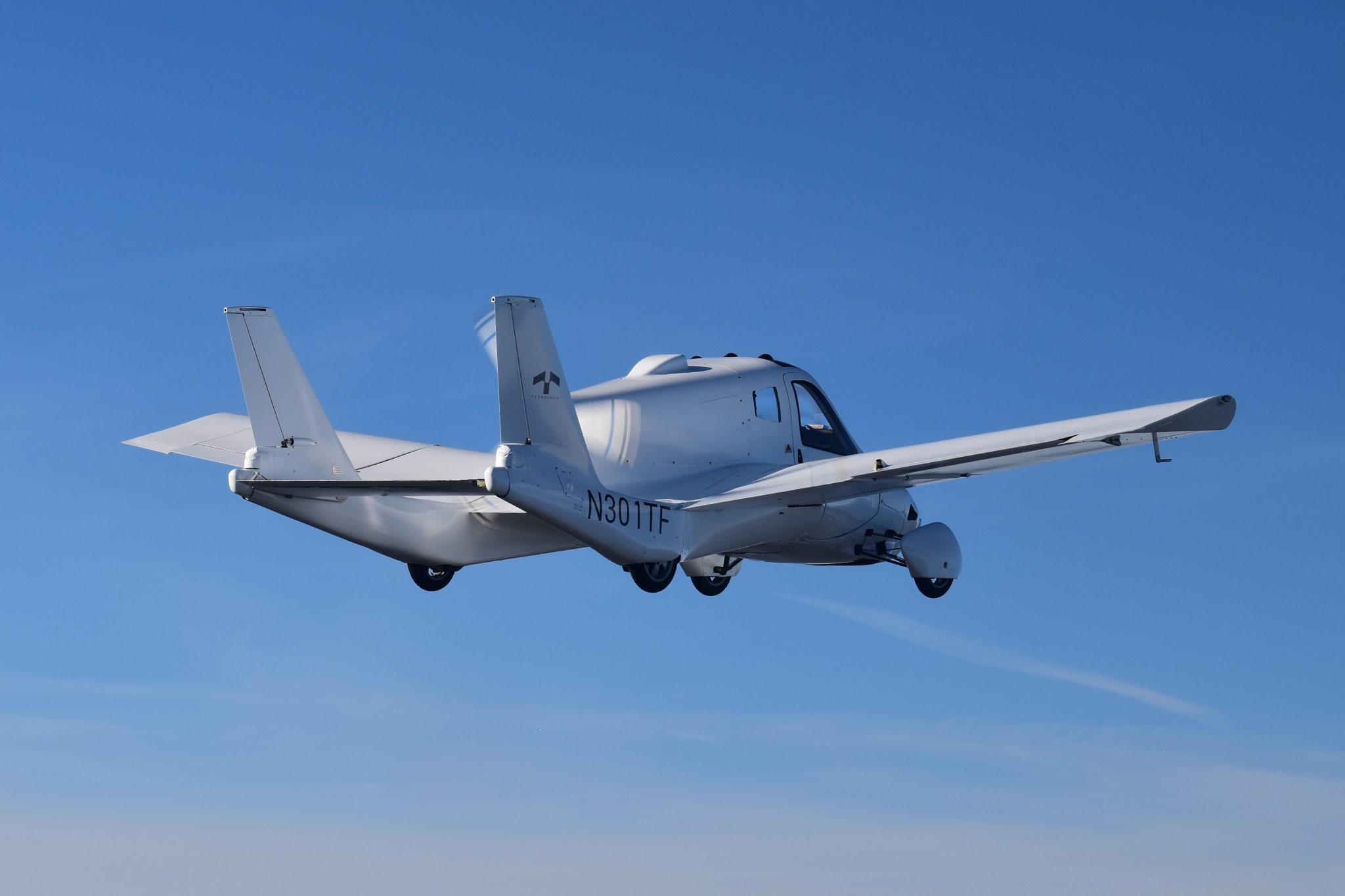 it can fly at 168 km/h
only a sport pilot license is necessary
it's equipped with a parachute
its rotating engine seems quite efficient, consuming roughly 13 L/100 km when flying
it can run both on standard premium gasoline or fuel for planes
it can be parked in a normal garage
it needs an airport to takeoff and land
Since Geely, the Chinese company which acquired Volvo, bought it, Terrafugia Transition has leapt forward, just like did Volvo, that the Chinese have turned into an electric car leader.
Terrafugia Announces FAA Special Light-Sport Airworthiness Certificate – Woburn, MA – January 26, 2021.
Terrafugia, Inc. announced today that it has reached a significant milestone by obtaining an FAA Special Light-Sport Aircraft (LSA) airworthiness certificate for its Transition® roadable aircraft. "We are excited to have reached our goal of an airworthiness certificate for the initial version," said Kevin Colburn, Vice President and General Manager of Terrafugia. "During an extremely challenging pandemic year, our team remained focused, improved our quality system, completed the critical aspects of the design, built the vehicle, completed 80 days of flight testing, delivered 150 technical documents, and successfully passed the FAA audit. This is a major  accomplishment that builds momentum in executing our mission to deliver the world's first practical flying car."
An ideal alternative for private planes
A private plane can save you hours at the airport, since you can take off 15 minutes after your arrival, and jump into a car 15 minutes after landing. Nevertheless airports are often far from your destination. That's why combining flying with driving would save you even more precious time.
The flying car is already available for pilots and flight schools
The Transition, in airplane mode, will now be for sale for pilots and flight schools, but the driving side of its persona won't be completed for another year. Colburn said the goal was to have the complete version legal in both the sky and on the roads in 2022. In aircraft mode, the Transition has enhanced safety capabilities, along with the latest avionics. Powered by a 100 hp Rotax 912iS Sport fuel-injected engine, Terrafugia says the aircraft has a flight speed of 100 mph, or 168 km/h. It will run on either premium gasoline or 100LL airplane fuel.
Standard features include a Dynon Skyview avionics package, a BRS airframe parachute, four-wheel hydraulic disc brakes, air bags, a rigid carbon-fiber safety cage that meets automotive standards, and folding wings so the Transition can be parked in a single-car garage. It also has a luxury interior, with leather seats. The dashboard has a shift that goes from Park to Drive, and then to Fly, for aircraft mode. The car version will be powered by a hybrid-electric motor.
The Transition will require a Sport Pilot certificate and driver's license to operate.
About the Transition®
The Transition is the world's first practical flying car. A two-seat, roadable light sport aircraft, the Transition features wings that fold and unfold, converting between flight and drive modes in under a minute. Eliminating the hassle of hangar storage, ground transportation and aviation fuel, the Transition fuels up with 91 octane gas and can be stored in your garage.
Safe and Sound
The Transition is the only aircraft that incorporates the required safety features for both autos and aircraft. Setting a new standard for safety, the vehicle includes an airframe parachute, crumple zones, advanced avionics, rearview cameras and more. Hybrid-electric motors for drive mode. Standard features include a Dynon Skyview
avionics package, a BRS® airframe parachute, four-wheel hydraulic disc brakes, a rigid carbon fiber safety cage, and folding wings to allow storage in a single-car garage.
Technical specifications
• Capacity 2 Seats (Pilot +1)Engine• Rotax 912iS 100HP 4 cylinder fuel injected 2,000 hr TBO
• Hybrid-electric motors for drive modeDimensions• Drive mode: 7.5 ft x 6.9 ft x 19.5 ft
• Flight mode: 7.5 ft x 27.2 ft x 19.5 ft
• Requirements: Driver's License – Sport Pilot Certificate
• Avionics: Dynon Skyview
• Safety Features: Airframe parachute – Airbags – Seatbelts with automatic retractors
• Structurally rigid cabin engineered to meet auto safety standards
• 3 cameras in drive mode