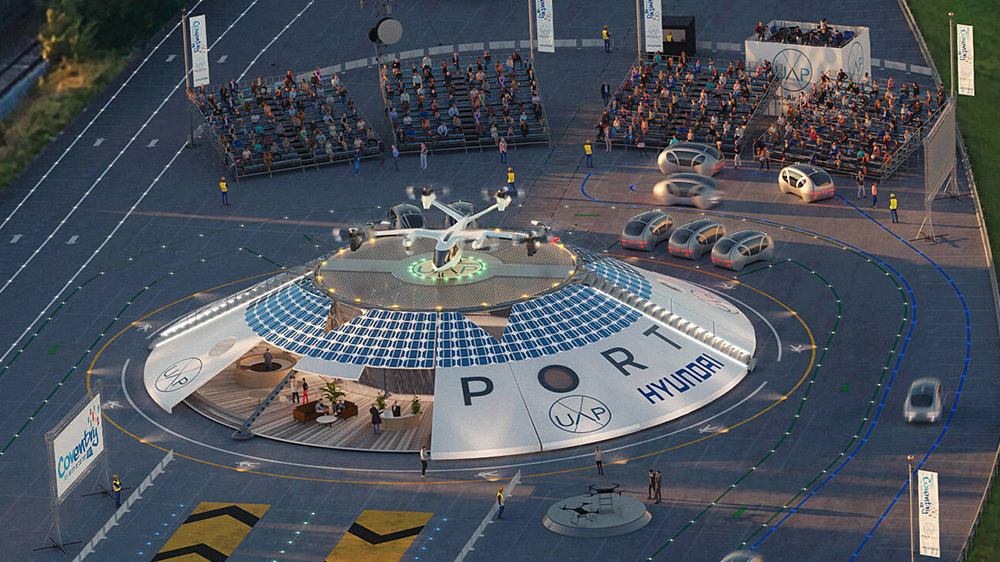 The world's first eVTOL hub is officially in the works.
Air-One will host live demonstrations from the end of this year showcasing the many uses of eVTOL.
Completely electric and ecological, with a cost per passenger kilometer close to that of a combustion car, flying cars have the advantage of avoiding any traffic jam and of moving at a speed comparable to that of a small private plane, often close to 200 km / h, even 300 km / h in the case of the Lilium Jet. What's more, they can land on small spaces like a tennis court, so much closer to your destination, even in city centers. I have already written a lot here about the three flying cars closer to commercialization, the Ehang 184, the Volocopter and the Lilium Jet, each benefiting from construction projects of urban airports or take-off platforms already well advanced. They should enter service up to 4-5 years from now. Lilium Jet has already signed contracts with the cities of Düsseldorf and Cologne in Germany and Orlando in Florida. The UK is also doing its part to ensure that air taxis are no longer just dreams. Earlier this year, the UK government authorized Hyundai and Urban Air Port to build the world's first eVTOL hub. Scheduled for launch later this year, the facility will not only serve as a port for eVTOL craft and autonomous delivery drones, but will also demonstrate the full potential of sustainable urban air mobility in the UK and beyond.
An infrastructure for flying cars
Although the development of eVTOL has come a long way over the past decade, there is still no real infrastructure in place for flying cars. But thanks to a £ 1.2million grant (roughly $ 1.65million, or € 1million and € 350,000) from UK Research and Innovation's Future Flight Challenge, Hyundai and Urban Air Port will now go front with plans for the construction of a temporary airport in Coventry city center in central England. According to Reuters, from November this year, the Air-One hub will host live demonstrations designed to show how eVTOLs can be used for passenger transport, autonomous logistics and disaster emergency management. The facility will also take up less space and use fewer resources than a traditional helipad or airport, according to a press release. Since there is no track, Hyundai says its physical footprint will be 60% smaller. It will also emit no carbon emissions and can also be operated completely off-grid, should the need arise. Urban Air Port welcomed the UK move, saying it brings clean urban air mobility closer to becoming a reality. Flying cars or flying taxis, according to founder Ricky Sandhu, will do for mobility what cell phones did for communication. Indeed, in areas where it was expensive and difficult to build the necessary landline infrastructure, cell phones have enabled hundreds of millions of people to connect, especially in India and Africa. Likewise, where it is very expensive and complicated to build roads and railways, airports for cars and flying taxis will allow people to travel in an environmentally friendly, fast and inexpensive way. These airports will have platforms with a diameter of 14 m, which can descend to lower floors where there will be structures for the embarkation and disembarkation of passengers, reloading of flying cars, parking lots, etc. They will be like small airports, but much smaller. Urban Air Port sees the Coventry hub as the start of a much larger and more ambitious project. The company hopes to develop 200 additional eVTOL port sites over the next five years, both in the UK and overseas. The era of the air taxi is about to begin.