Electric aircraft advantages – and limits
Advantages: no emissions in flight, quieter, more energy efficient, economic, less maintenance, capable of landing and taking off in much shorter distances. Which makes them well suited for private flights. Limits: short range, limited speed and load capacity due to the heavy batteries. My take: they will take a decent share of the market of piston engine planes, in about ten years, and after 2035, of turbo-prop.
Smaller aircraft can already take off purely electrically. Future air taxis will also be equipped with a battery-operated drive. Regardless of the class of aircraft, however, there is a lot to be considered: from strict certification regulations to the limits of physics and chemistry. Will even large airliners soon fly electrically? Or will a hybrid drive become established, for example with a fuel cell?
If you want to take off with a battery-powered aircraft today, you can do so with the Alpha Electro in Switzerland. The two-seater of the Slovenian aircraft manufacturer Pipistrel is in operation there at flight schools. It's based on the Pipistrel Alpha Trainer, a flight training aircraft. The battery capacity of 21 kilowatt-hours is sufficient to keep the school plane in the air for one hour, plus a 30-minute reserve. After landing, the battery can be replaced within a short period of time or fully charged in less than one hour. With batteries the dead weight is 368 kilograms, the maximum starting weight is 550 kilograms. 100 Pipistrel were sold to a Chinese company.
Airbus e-Genius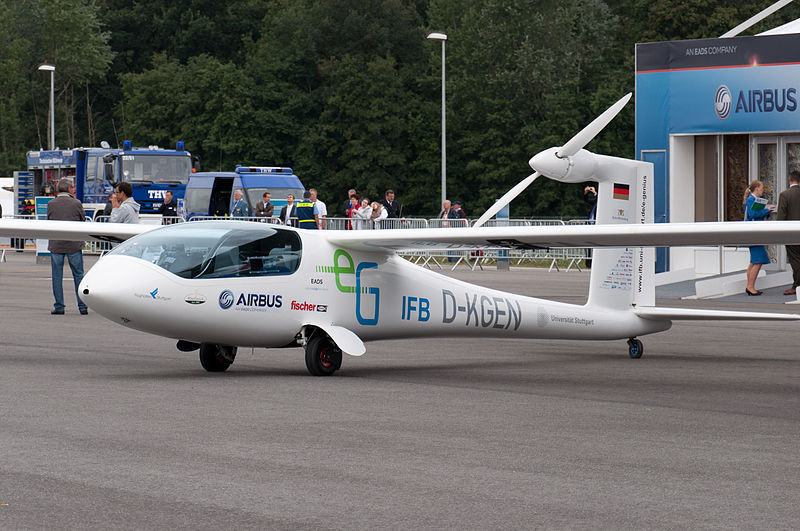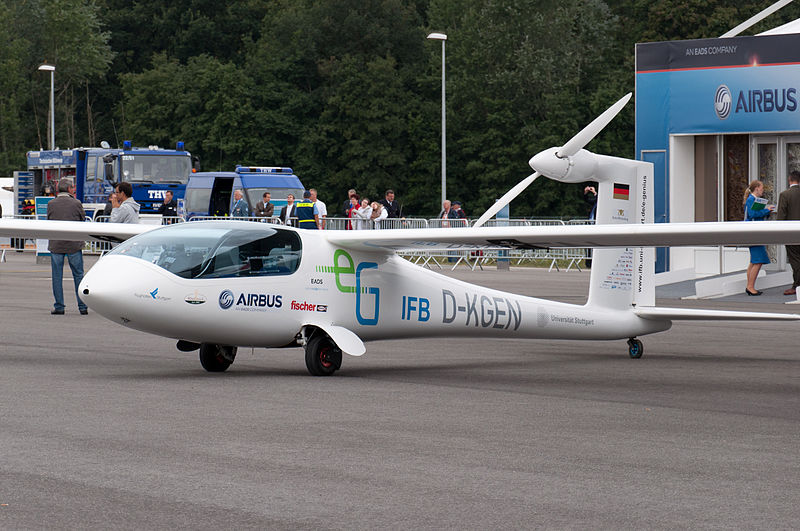 The University of Stuttgart has adopted a different approach: the e-Genius electric motor glider is a new development and has been adapted to the electric drive train. The two-seater is intended to test the technology in practice. In July 2015, the sailplane crossed the Alps with a range extender (ane electric generato with Wankel motor) with a 1000 km range. For the 320 kilometers (return journey: 365 kilometers) long journey from the Hahnweide near Stuttgart to the Calcinate del Pesce (Lombardei), the pilots took around two hours. Return flight used 83 kWh – as much energy as 9.2 liters of fuel. Total cost of the flight: 21 Euros.
Air taxis
The road across the Alps is more difficult for them, for they could float over the traffic jams and in the future take us from A to B without any pollution: air traffic with a pure batterybe equipped with an electric drive and should at some point be able to move autonomously. In Germany alone, three companies carry out research and build on different aircraft for different mission targets – from urban operations to connecting individual cities with each other. Their design is as different as the tasks for which the taxis are designed. Commercial flights have not yet obtained a prototype, but developments are progressing. There are several projects in the USA as well. Here are the highlights of three different concepts!
Volocopter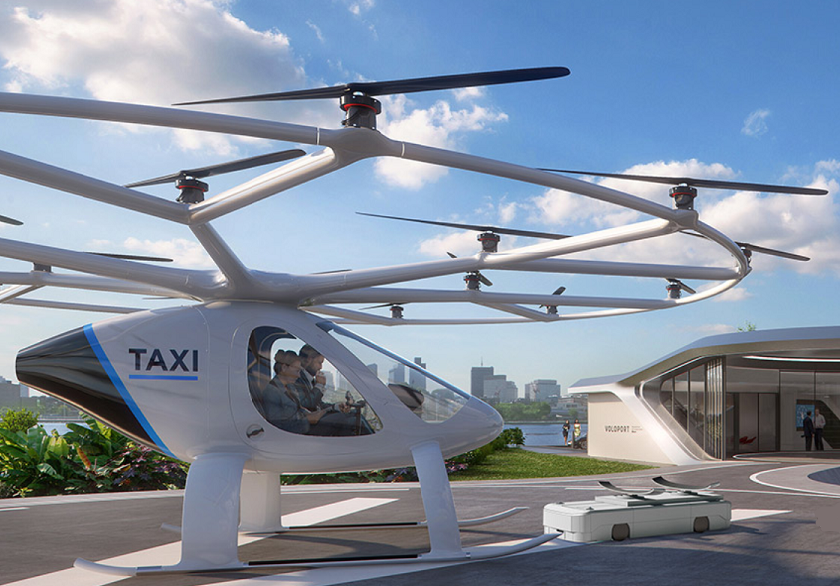 Electric vertical takeoff and landing (eVTOL) aircraft maker Volocopter has received a Design Organization Approval (DOA) from the European Union  Aviation Safety Agency (EASA). This is basically a recognition by the EU that the processes Volocopter  has in place in developing and building its aircraft are of a high enough standard that it can expedite the process of deploying its eVTOLs for commercial use. Volocopter has flown its personal transport with passengers on board in Singapore and Stuttgart so far, in tests designed to help demonstrate its feasibility ahead of a true commercial launch.  The company hopes to launch its service for the public in around two to three years' time.
Lilium Jet

On May 4, 2019, the Lilium Jet-named taxi from Weßling, near Munich, took off for the first time into a shaky, 60-second jumper.  According to Lilium Gmbh, the first flight test phase was successfully completed in October 2019, flying at speeds above 100 km/h for the first time. The Lilium Jet can fly six people at 300 km/h for 300 km. Vertical take-off and landing allow it to take off from a parking lot or even a tennis court. The company was founded in 2015.
EHang 184, soon to enter service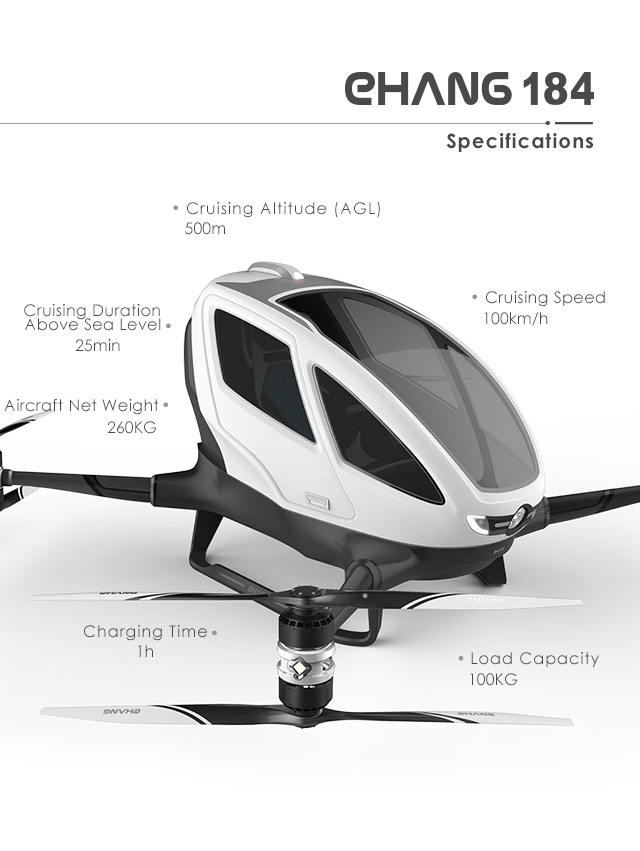 China's EHang, a company focused on developing and deploying autonomous passenger and freight low-altitude vehicles, will build out its first operational network of air taxis and transports in Guangzhou. The company announced that the Chinese city would play host to its pilot location for a citywide deployment.
The pilot will focus on not only showing that a low-altitude, rotor-powered aircraft makes sense for use in cities, but that a whole network of them can operate autonomously in concert, controlled and monitored by a central traffic management hub that EHang will develop together with the local Guangzhou government.
EHang, which was chosen at the beginning of this year by China's Civil Aviation Administration as the sole pilot company to be able to build out autonomous flying passenger vehicle services, has already demonstrated flights of its EHang 184 vehicles carrying passengers in Vienna earlier this year, and ran a number of flights in Guangzhou in 2018 as well.
It claims an operating cost of $ 7 cents per km/passenger: Alice, the most promising regional aircraft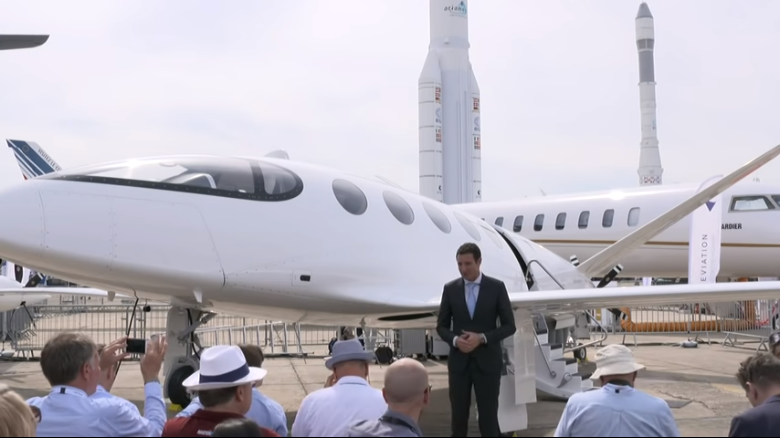 If more than two or five people are to be transported, a larger aircraft is required. The regional aircraft Alice of the Israeli-American aircraft manufacturer Eviation offers great chances for the title of the first battery-powered aircraft. The authorisation is planned for 2021 or 2022. A lithium-ion battery with a capacity of 900 kWh delivers energy for 1200 kilometres of range and a travel speed of 481 km/h. Nine passengers and two pilots can fly in the 12.2 meter long plane. This extra space is expensive to buy: 60 percent of the maximum take-off mass of 6.3 tons takes up the weight of the batteries (3.7 tons). Most impressing: a flying cost of $ 7 cents per km/passenger.
Airbus E FAN X
I already wrote here about Airbus E FAN X, a promising experiment.