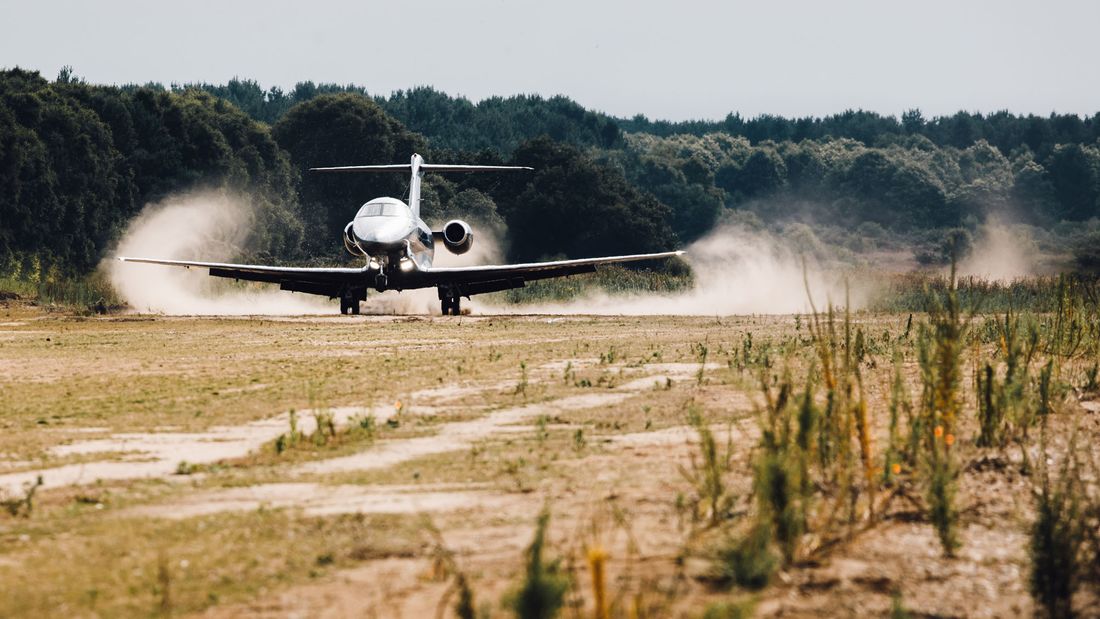 A huge breakthrough for a private jet.
Pilatus PC-24 is the 1st private jet to be certified for landing and taking off on virtually any kind of runway. This means that a private jet, for the moment only a Pilatus PC-24, but probably also other competitors in the future, can broaden significantly its scope, reaching airports and even places that are far from the more than 3000 airports that private jets have been able to use in Europe so far.
A even a huger advantage for private jets
1 of the foremost advantages for private jets, is that they can be deployed on airports which are 10 times more numerous than those for airliners in Europe alone (roughly 3000 versus 300). Now, with the off-road capabilities of a Pilatus PC-24, and hopefully soon of other private jets, new runways for takeoff and landing can be set up almost anywhere, allowing private jet users to land closer than ever to their destinations. These are often factories, mines, logistic and producing facilities that are often far from airports. Even if you are to use a private jet as an ambulance, or for rescue and emergencies, reaching unpaved runways is a big plus.
Technological prowess
Pilatus has now completed the "Rough Field" certification for the PC-24. Thus, the "Super Versatile Jet" can take off and land on grass, gravel, wet earth and snow.
The business jet from the Swiss manufacturer Pilatus can now take off and land on all conceivable surfaces. The PC-24 was already approved for operations on dry sand and gravel in 2018 – now take-offs and landings on grass, wet earth and snow are permitted. "This makes the PC-24 the world's most flexible business jet," the aircraft manufacturer wrote in a press release.
From the beginning, the "Super Versatile Jet" was developed for use on natural runways with the aim of opening up the greatest possible degree of flexibility and new possibilities. Pilatus writes that by its plane you have access to almost twice as many airports worldwide than with other business jets currently on the market. That means more options and time savings for the operators and their passengers.
Oscar J. Schwenk, Chairman of the Pilatus Board of Directors: "I am very pleased that the extensive tests have been successfully completed. Our PC-24 has proven that it can fly all missions for which we developed it. The Royal Flying Doctor Service of Australia and other operators in North America and Africa are already regularly flying on natural runways, thereby proving how unique the PC-24 is. You only get such skills with the Super Versatile Jet! "
According to the requirements of the European Aviation Safety Agency (EASA), the tests for the certification of take-offs and landings must be carried out on different runways, explains Pilatus. After various site checks, runways in America and Europe were evaluated. The Goodwood, England grass runway was chosen for testing on dry grass. The PC-24 achieved further results on grass in Kunovice in the Czech Republic, in Poitiers in France and in Duxford, England. In Woodbridge, England, the test requirements for take-offs and landings on mud were met. The PC-24 was also used in northern America: Tests were carried out on snow-covered gravel roads in Kuujjuaq in Canada.