At the airport you often have to spend several hours. While some airports are more likely to put off chaos, others can impress with a great design and great organization. But what are the favorite airports of the pilots? Travelbook.de has inquired from a pilot and learned his Top 5!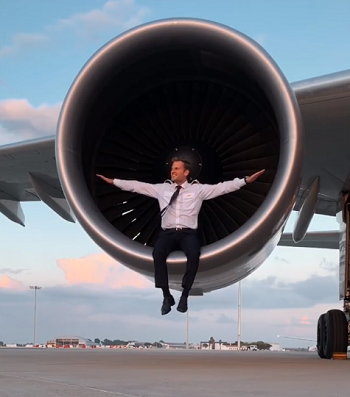 Patrick Biedenkapp is a private jet pilot and influencer – on Instagram he has almost 500,000 subscribers. With them he shares travel tips and interesting facts about aviation.
Nice Airport
"Nice is one of my favorite airports in Europe. He definitely wins no prize for the cleanest, best organized or most beautiful airport, but the approach thrills all the more. I used to fly to the airport several times a week by private jet. Coming from the north you first fly over high mountains, then descend to the sea. In the best case you fly over or even past Monaco.
In order not to disturb the beautiful and wealthy in their luxury villas, an extra approach procedure has been developed, so that the approach mainly runs over the sea. This has the consequence that one rushes to the runway at a 90 degree angle and then turns on the train in the short final approach. This procedure has to be flown manually, without autopilot and after sight. It is particularly spectacular when you fly parallel to the beach and can already see the bathers.
Samedan Airport
"The airport of Samedan in Switzerland is located in a picturesque valley a few kilometers from St. Moritz. In winter there is bustle and it is the destination of the rich. The highest airport in Europe can only be approached in good weather and you need minimum views to be able to fly in and out. I've been there a lot in my career as a private jet pilot.
London Farnborough Airport
"London is the city of airports for me. Farnborough Airport is the sexiest among my favorites. The purist terminal of Farnborough was even seen in a James Bond movie. Although the airport is just outside London, many business people and wealthy families are leaving from this airport. The roads are extremely short and the passengers can drive with their vehicle to the private jet. "
Innsbruck Airport
"The arrival and departure from Innsbruck not only offers a great view of the Austrian mountains in good weather, but is also a challenge for the pilots. The procedures are special, the mountains are very close and the runway is not the longest. In strong winds, turbulence can occur and this can be a bit more uncomfortable for passengers. The huge advantage of Innsbruck is that the routes for the pilots on the tarmack and also for the passengers in the terminal are incredibly short. Just minutes after landing, you can stand in front of the terminal building. "
Oslo Airport
"Oslo Airport is one of the most beautiful in Europe for me. The departure lounge is made of a wooden structure and it looks like the ceiling is floating above the terminal building. In addition to the stunning building in Scandinavian design, the airport is also maintained down to the smallest detail. The ground shines, the airport employees are friendly and the routes within the terminal are manageable. "