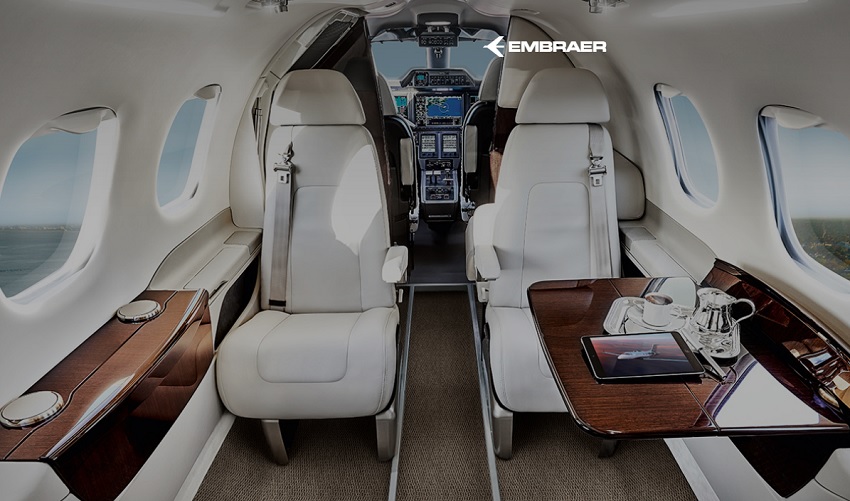 Why it is a rental champion for private flights:

Extremely nice and easy to fly, featuring an elegant and comfortable cabin.
The Embraer Phenom 100 is a Very Light Jet from Embraer. The small jet was launched in December 2008. Embraer has really shaken up the market segment of small jets for private flights with the powerful Phenom 100.
Embraer Phenom 100 : development history
The first ten machines were delivered in December 2008. The type designation of the Phenom 100 small jet is EMB-500, the aircraft is built in the plants Botucatu in Brazil and Melbourne in the US state of Florida. The entry-level jet from Embraer was quickly established on the market, and by April 2014, the successful aircraft manufacturer from Brazil had already delivered 300 Phenom 100s. The Phenom 100 cost 3.6 million US dollars at the start of the program, today (late 2018) you have to expect for the modern version Phenom 100EV a price of about 4.6 million US dollars.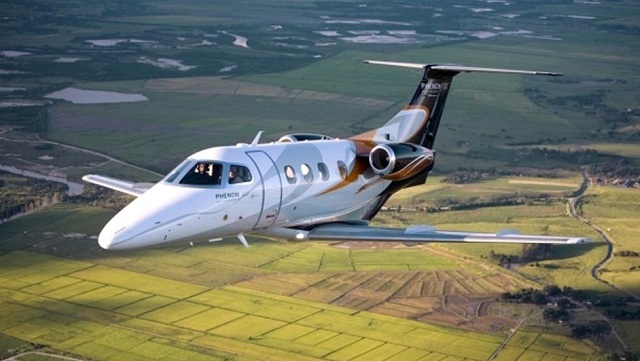 Embraer Phenom 100 design features
The Phenom 100 small jet is designed as a low wing with T-tail. The main landing gear can be retracted inwards against the hull in the wing, the two main wheels have a hydraulic brake. The nose gear is retracted against the front of the fuselage nose and can be controlled on the ground via the pedals. The conventionally constructed wing houses a fuel tank on each side, the wing leading edges can be de-iced with boots. The landing flaps have four other positions in addition to the retracted positions. The Phenom 100 has been equipped as standard with a Speed Brake since mid-2013, the first machines had no air brake yet. The two Pratt & Whitney Canada PW617F-E engines are bolted to the rear of the fuselage.
The hull comfortably accommodates four passengers in the popular club layout. The Phenom 100 has a small toilet, which can also be used as a passenger seat. In addition to a pilot, the Phenom 100 can carry a maximum of seven passengers.
Embraer Phenom 100 – Avionics and flight performance
The Phenom 100 is equipped with an Embraer Prodigy 100 Flight Deck from Garmin, a state-of-the-art avionics package based on the Garmin 1000. All radio and navigation systems are integrated in this avionics, of course, the small jet also has a modern weather radar, this is installed in the bow.
All inputs for the Prodigy 100 Flight Deck can be made via the input buttons and rotary switches on the screen, in addition to a small input unit with alphabetical keyboard is available. Avionics leaves nothing to be desired for the pilots of the Phenom 100. The autopilot can be switched to the flight control system (Flight Director System), which controls both lateral and vertical flight direction inputs. The inputs can be selected via a control and control unit.
The Phenom 100 Very Light Jet can carry four passengers over a distance of 1,160 nautical miles (2,148 kilometers) and reaches a maximum cruising speed of 380 knots (703 km / h). The pressurized cabin allows flights up to an altitude of 41,000 feet (12,497 m). The Phenom 100 is powered by two Pratt & Whitney Canada PW617F-E engines. The Phenom 100 can be flown by one pilot and is approved for all-weather flights under instrument flight conditions. The manual flight control is pleasant and balanced for the pilot in all flight areas. The Phenom 100 is all around nice to fly.
With the Phenom 100, Embraer has set new standards in entry-level jets, putting the competition under intense pressure.
Specifications:
Country: Brazil. Use: Small jet airplane. Propulsion: Two fan engines Pratt & Whitney Canada PW617F-E
Performance: 1,615 pounds each. First flight: July 26, 2007. Crew: 1 or 2 pilots.
Passengers: maximum 7 and one pilot .FAA approval: December 12, 2008.
Price at launch: 3.6 million US dollars. Length: 12,82 m. Span: 12.3 m. Span height tail: 5.34 m. Height: 4.35 m; Cab height: 1.50 m. Cabin width: 1.55 m. Cabin volume: 5.90 m³. Luggage Compartment: 1.73 m³. Luggage compartment in cabin: 0.31 m³. Maximum start weight: 4,750 kg. Maximum landing weight: 4,430 kg. Maximum Zero Fuel Weight: 3,830 kg.Empty weight: 3,235 kg. Maximum payload: 1,515 kg. Maximum passenger and baggage weight: 595 kg. Feasible Fuel: 1,272 kg (336 gallons).
Flight performance:
Maximum cruising speed: 380 knots (703 km /h ). Maximum speed MMO: Mach 0.70. Maximum altitude: 41,000 feet (12,497 m). Starting climb rate: 3,000 feet / minute. Starting Stroke Rate with one engine: 900 feet / minute. Four-passenger . Range: 1,160 nautical miles (2,148 km). Start distance at maximum takeoff weight: 3,400 feet (1,036 m). .Landing distance at maximum  landing weight: 3,000 feet (914 m). Landing reference speed: 101 knots (187 km / h).