Faster, higher, bigger, farther: The development of aviation is and always has been marked by records. A special role has always been taken by large aircraft. We show the ten biggest of all times.
10th place: Saunders-Roe SR.45 Princess – 66.90 meters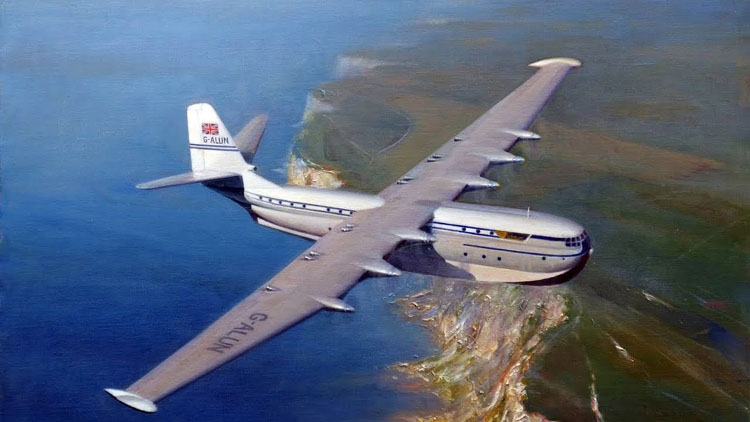 The history of the Saunders-Roe Princess was not very glorious. Despite ambitious plans, the British large flying boat had no success. With a wingspan of 66.90 meters and a length of over 45 meters, it is still the largest all-metal flying boat ever built. In scheduled service, it should offer comfortable space for 105 passengers.
Powered by ten turboprop engines of the type Bristol Proteus 600, the Princess launched on 22 August 1952 for its first flight.
By the time the Princess finally fledged in the summer of 1952, time had already turned against her. The future belonged to the Jets – only one copy of the SR.45 was completed, two more remained unfinished. All three finally ended up in the junkyard.
Technical specifications:
Drive: 10 x Bristol Proteus 600 with 3245 WPS each
Length: 45.1 m
Height: 16,99 m
Wing area: 466 m²
Unladen mass: 86,183 kg
Maximum take-off mass: 156.501 kg
Cruising speed: 579 km / h
Range: 9205 km
9th place: Lockheed C-5 Galaxy – wingspan 67.88 meters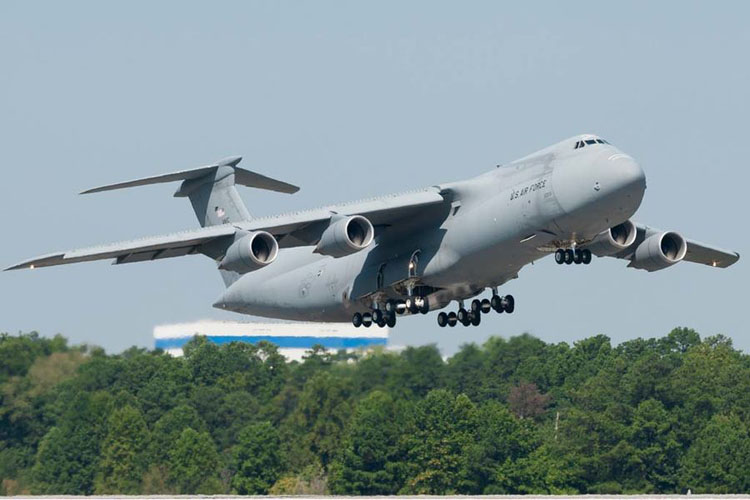 When the Lockheed C-5 Galaxy took off for the first time on June 30, 1968, it was the largest transport aircraft in the world. She lost this rank again in 1982, when she was pushed off the throne by the Antonov 124. The Galaxy came out of a competition for a new long-distance transporter and replaced the outdated Douglas C-133 Cargomaster with the US Air Force. Of the 131 built specimens, 52 are still in service today.
As a successor to the C-5 is far from being in sight, these 52 aircraft have undergone an extensive refurbishment program. By the end of September 2018, all still active Galaxys have been converted to the new standard C-5M Super Galaxy.
Technical specifications:
Drive: 4 x General Electric CF6-80C2 with 224.9 kN thrust each
Length: 75.54 m
Height: 19,85 m
Wing area: 576 m²
Unladen weight: 169643 kg
Maximum take-off mass: 381,024 kg
Payload: 127,460 kg
Cruising speed: 833 km / h
Range: 9723 km (with 60 tons payload) Lockheed C-5 Galaxy
8th: Boeing 747-8 – span 68.40 meters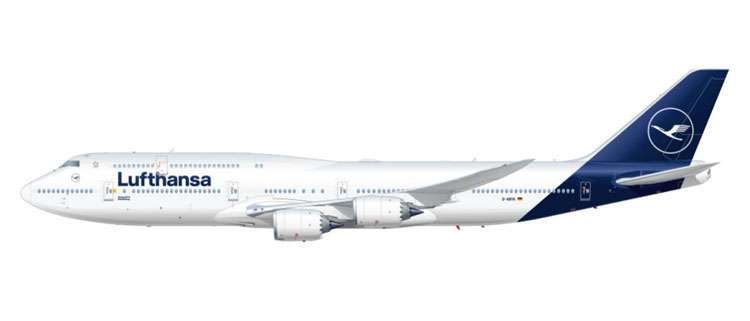 The latest version of the legendary Jumbo Jet flew on 20 March 2011 for the first time and can carry 467 passengers in a three-class version. Compared to the hitherto most modern jumbo version 747-400 Boeing stretched the hull of the 747-8 by 5.60 meters. In the passenger version 747-8I also the charismatic upper deck was stretched accordingly. It is 4.1 meters longer than the previous version. The freight variant does not have a stretched upper deck.
Boeing also offers the 747-8 as a business jet with a range of over 16,000 kilometers. The next generation of the US presidential plane will also be based on the 747-8. As a passenger aircraft, the jumbo has, however, with more and more airlines a competitive disadvantage.
Technical specifications:
Propulsion: 4 x GE Aviation GEnx-2B67
Length: 76.3 m
Height: 19.4 m
Wing area: 554 m²
Unladen mass: 211,690 kg
Maximum take-off mass: 447.696 kg
Payload: 76.335 kg (747-8 Intercontinental)
Cruising speed: 917 km / h
Range: 14800 km Boeing 747-8
7th place: Bristol Brabazon – span: 70,10 m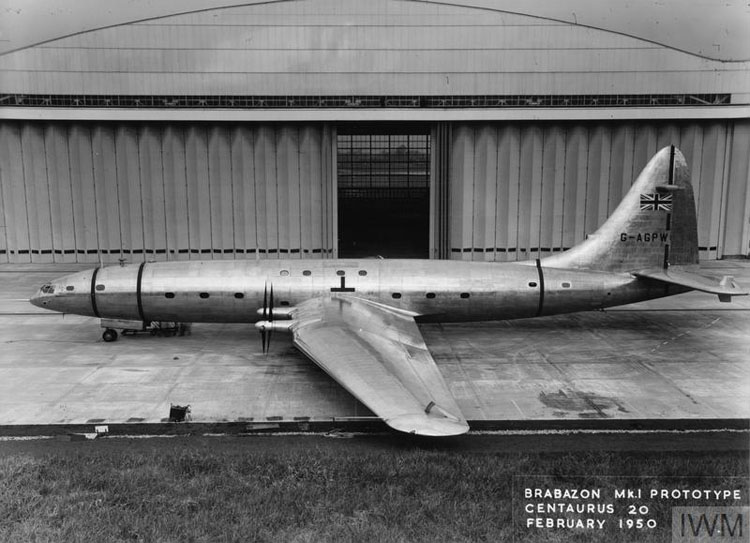 It was the largest aircraft ever manufactured in the United Kingdom: the eight-engine Brabazon was designed for transatlantic traffic after the Second World War. The eight paired, air-cooled, double-star engines each propelled four counter-rotating pairs of propellers via remote shafts, similar to the Saunders-Roe Princess. The British giant flew for the first time on 4 September 1949.
The Brabazon was designed for 100 passengers and should allow this particularly comfortable travel. However, it was hard to imagine economic operation, which is why the Brabazon fell to the US competition from Lockheed Cosntellation and Douglas DC-6 and DC-7 in the behind. The engines installed at an angle to each other in the wings also did not provide the required performance and remained technically susceptible. A conceived turboprop version of the Brabazon was never realized.
The only prototype of the named after the British baron and aviation pioneer John Moore-Brabazon machine was finally scrapped in 1953.
Technical specifications:
Drive: 8 x Bristol Centaurus 20
Length: 54 m
Height: 15 m
Wing area: 494 m²
Unladen mass: 65.816 kg
Maximum take-off mass: 131,540 kg
Cruising speed: 402 km / h
Range: 8851 kgSquare 7: Bristol Brabazon
6th place: Convair XC-99 – wingspan 70.12 meters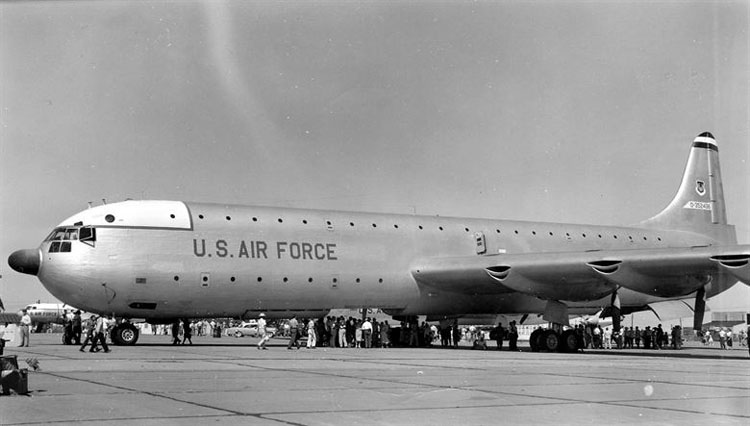 The Convair XC-99 was a US Air Force-developed transporter derived from the strategic bomber B-36 Peacemaker. With a span of 70.12 meters, more than 55 meters in length and a take-off mass of more than 120 tons, it was the largest piston-powered land plane ever built. But since the US Air Force no longer had any need for such a large-sized van in the meantime, it was decided not to mass-produce.
Technical specifications:
Drive: 6 x Pratt & Whitney R-4360
Length: 55.64 m
Height: 17.53 m
Wing area: 443.3 m²
Unladen mass: 61,395 kg
Maximum take-off mass: 120.310 kg
Payload: 45,400 kg
Cruising speed: 400 km / h
Range: 13,036 km
5th place: Antonov An-124 – wingspan: 73.30 m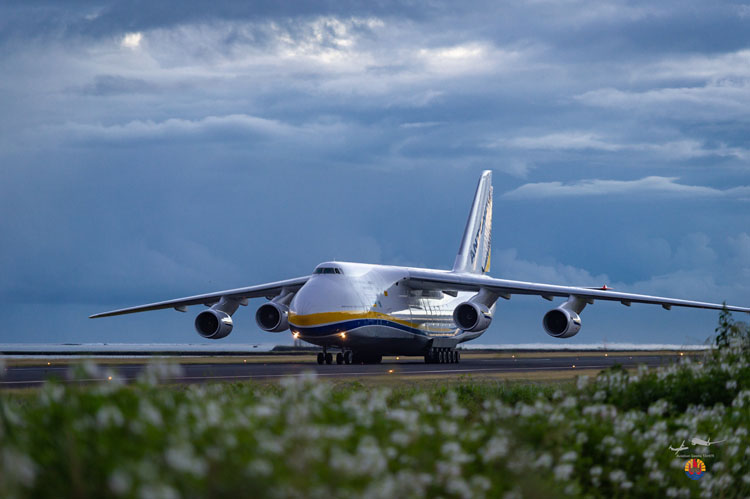 The An-124 Ruslan took off on December 26, 1982 for its first flight. Developed in the Soviet Union as a counterpart to the C-5 Galaxy, today it is the world's leading aircraft for heavy-duty civil transports. She benefits from being able to land and load and unload in remote locations with poor infrastructure. Their sturdy chassis and conception of a shoulder-top make it possible for the An-124 to operate even on hard frozen snow and gravel roads. Since it carries all relevant aids for loading and unloading on board, the An-124 is not bound by special conditions at the airport, but can operate completely autonomously. This makes them especially in crisis and disaster areas and as a military transport to a sought-after helper. Even NATO is relying on the performance of the An-124 as part of the SALIS project.
Technical specifications:
Drive: 4 x Iwtschenko Progress D-18T
Length: 69.10 m
Height: 21.08 m
Wing area: 628 m²
Unladen mass: 175,000 kg
Maximum take-off mass: 405,000 kg
Payload: 150,000 kg
Cruising speed: 800 km / h
Range: 4800 km (with maximum payload) Antonow An-124
4th place: Airbus A380 – wingspan 79.80 meters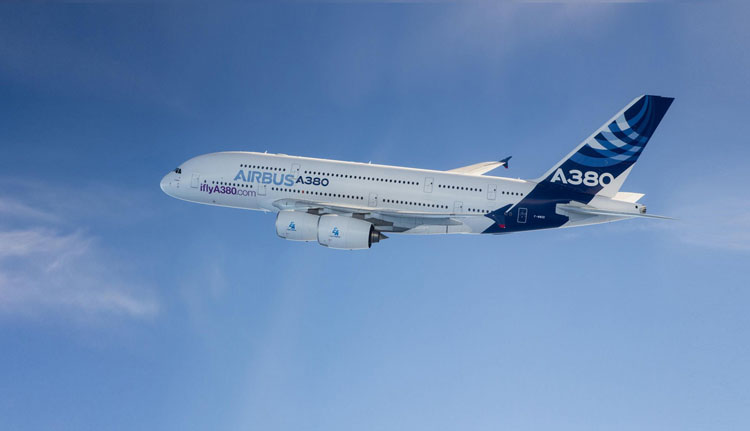 The largest member of the Airbus family flew for the first time on April 27, 2005. Since then, the European "super jumbo" has been luring thousands of onlookers to the airports all over the world. And not without reason: Even today, the double-decker colossus to the viewer is simply impressive. The sight of 560 tons of weight lifting into the air hardly leaves anyone cold.
With its consistent double-deck design, the A380 is unique and unmistakable today. That makes him the darling of many aviation fans. Even children recognize his silhouette. Economically, on the other hand, the A380 was less successful. The demand calculated by Airbus, in 2000, for 1235 aircraft was not nearly reached. Production is due to expire in 2021 – 251 A380s will be built by then. Due to its size, the A380 (the 8 in the name is by the way an allusion to the two passenger decks) operate only from appropriately equipped hubs – a disadvantage compared to smaller twin emitters such as Boeing 787 or Airbus A350, which can also serve smaller airports directly. In addition, the twinjets consume less fuel than the four-jet giant.
Technical specifications:
Drive: 4 x Engine Alliance GP7200 or 4 x Rolls-Royce Trent 900
Length: 72.80 m
Height: 24.10 m
Wing area: 845 m²
Unladen weight: 270,015 kg
Maximum take-off mass: 560,000 kg
Payload: 90.985 kg
Cruising speed: Mach 0.82
Range: 14,816 km
3rd place: Antonov An-225 – Span 88.40 meters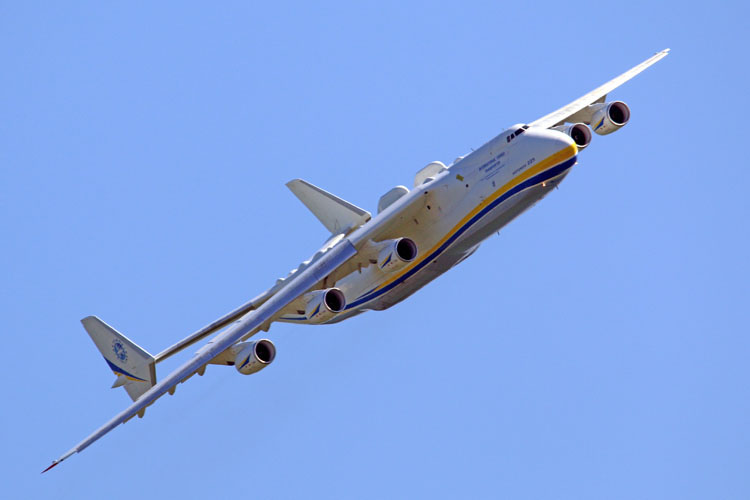 The Antonov An-225 celebrated on December 21, 1988 its rollout. It is the heaviest and longest aircraft that is available – in terms of span allerings the Antonov An-225 lands "only" in third place. The "Mrija" (Dream) is a further development of the smaller An-124 and was originally intended for the transport of the Soviet space shuttle Buran. She took off on December 21, 1988 in Kiev for the first flight. After the end of the Soviet Union, however, the Buran-Progarmm was stopped and the An-225 temporarily mothballed in 1994. A short time later, the idea of ​​giving Mrija a second life as a special freighter was circulated by the Ukrainian aircraft manufacturer Antonov, who had meanwhile been privatized. In 2001, the reactivated An-225 finally lifted again and has since been in demand around the world for transporting very bulky and heavy goods. Like its smaller sister, the An-124, the An-225 can be conveniently loaded and unloaded by ramp thanks to the lower nose landing gear. However, it has in contrast to the An-124 no charging at the rear.
The Antonov 225 currently holds 240 world records. These include the record for the heaviest cargo ever carried on a plane (247 tonnes of oil pipeline equipment from Prague to Tashkent on June 16, 2004) and the heaviest single cargo ever flown (a 190 tonne gas-fired power plant generator, flown from Hahn in Armenia in 2009). But there are also curious records under it – for example, the highest art exhibition of all time,  on 27 September 2012. 120 artists presented a total of 500 paintings, at an altitude of 10150 meters. The An-225 is a one-of-a-kind piece. A second, semi-finished An-225 remained unfinished today. Both copies have their home at the corporate airport of Antonov in Kiev-Gostomel.
2nd place: Hughes H-4 Spruce Goose – span 97.54 meters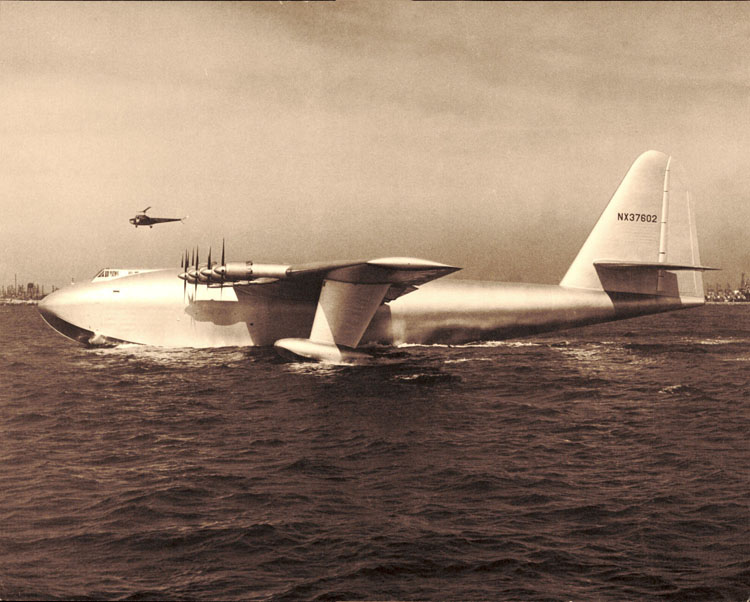 A billionaire dream made of wood: Howard Hughes' huge flying boat broke all records not only during his lifetime. With a wingspan of 97.54 meters, it is the second largest aircraft ever built. However, the Spruce Goose flew only once, and on 2 November 1947. At 13.40 local time, the Spruce Goose rose after two fast water rides off Long Beach for about one and a half kilometers from the water. She reached a speed of almost 160 km / h, but did not get beyond a height of 20 meters. Critics therefore deny her de facto ability to fly because she benefited from the lift of the ground effect on her jump.
Despite its light-weighted aluminum finish, the Spruce Goose weighed in at 180 tons, fully laden – and for the eight Pratt & Whitney R-4360 radial engines, that was a heavy burden for every 3,040 hp out of 28 cylinders. The short hopping off Long Beach on November 2, 1947, where Howard Hughes was personally behind the wheel, remained the only attempt to blow up the giant plane.
Technical specifications:
Drive: 8 x Pratt & Whitney R-4360
Length: 66.50 m
Height: 24.18 m
Wing area: 1059 m²
Starting weight: 180,000 kg
Payload: 68,947 kg
Cruising speed: approx. 400 km / h
Range: 9451 km
1st place: Scaled Composites Stratolaunch Carrier Aircraft – span 117 meters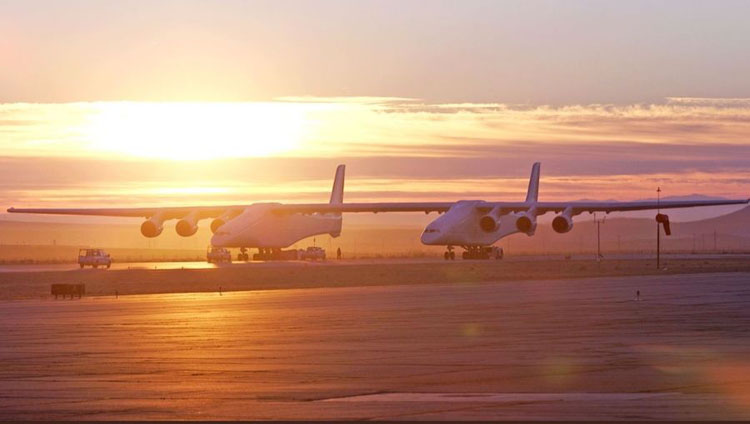 Developed by the US company Stratolaunch Systems and built at Scaled Composites in Mojave, California, the twin-hull aircraft will serve as a carrier for manned rocket launches into space – making satellite launch much cheaper than before. To make this bold plan a reality, Stratolaunch Systems slaughtered two Boeing 747-400s: the engines, cockpit, landing gear, hydraulics and electrics come from the two jumbo jets. The cell of the mega aircraft is made of composite materials. The two hulls are connected by a wing center piece. Stratolaunch is controlled from the right fuselage. Once in regular service, the plane is to create twelve or more drops per year. Whether it will actually happen, however, is questionable: After the successful first flight, everything has been was quiet about Stratolaunch. After recent reports, the aircraft is for sale – further fate uncertain.
Technical specifications:
Drive: 6 x Pratt & Whitney PW4056
Span: 117 m
Length: 73 m
Height: 15 m
Unladen mass: 226,796 kg
Maximum take-off mass: 589.670 kg
Top speed: 853 km / h
Range: 1852 km with external loads (without up to 4630 km)