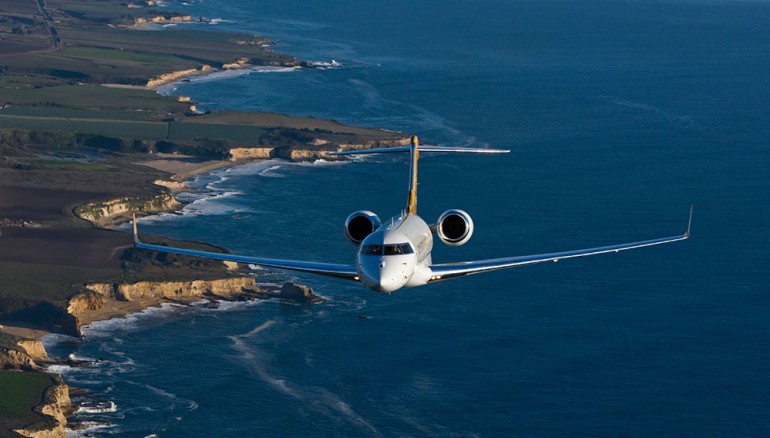 Break in the industry.  What is normalcy after the crisis?
More train instead of flight, fever measurement, first super cheap and then expensive – a lot will change in aviation after the Covid-19 crisis. But there are also opportunities, especially for private flights. An analysis.
Everything changed within eight weeks. Standstill instead of record growth, blue sky instead of contrails, layoffs instead of a shortage of staff. Aviation is experiencing the greatest crisis in its history with the outbreak of the Covid 19 pandemic.
It is now also clear that this is not a short, difficult phase, but a turning point. Even after the crisis has ended, the industry will be different. The majority of airlines do not expect demand to normalize before 2022. And even then the question is: what is "normal"?
Few airlines were doing really well before
Even if before the crisis, airlines transported record numbers of passengers worldwide – only a minority of them were really doing well. The rapid growth of the industry – also driven by cheap capital and low kerosene prices – has been profitable for only a few in recent years. Everyone else was struggling.
This was also reflected in the increasing number of bankruptcies in recent years. Air Berlin, Germania, Small Planet, Wow Air – all could not survive in the environment of low prices and strong competition.
Boost for changes in the industry
This was also due to the fact that prices continued to fall – so far that even airline bosses said: it is enough. Lufthansa boss Carsten Spohr, for example, has repeatedly condemned ultra-cheap offers such as 10-euro tickets in recent years. That is economically and ecologically meaningless, he argues.
In such an environment, the big providers could, albeit gritting their teeth, afford to keep up. Smaller ones could no longer fly to cover their costs. The industry has repeatedly talked about the fact that a correction in prices is just as inevitable as the increasing consolidation, i.e. bankruptcies and mergers. Such fundamental changes are now given maximum thrust by the crisis.
Fewer airlines
Already in the first months of the crisis it became clear that those who had to struggle financially before are now in acute danger. A few airlines had to give up. The British regional airline Flybe was one of the first to go bankrupt. The Swedish Braathens and LGW in Germany followed. South African is on the brink, Air Mauritius, Virgin Australia and four Norwegian subsidiaries are insolvent and face an uncertain future.
And that is where those who were well positioned before the crisis and who had put up reserve cushions will emerge victorious.
Smaller airlines and more private flights
"We have a smaller Lufthansa group ahead of us," announced Lufthansa CEO Carsten Spohr in March. All airlines in the group are shrinking as a result of the crisis. Among other things, Lufthansa itself grounds several aircraft earlier – around six Airbus A380s and five Boeing 747-400s. It is unclear whether and when the Airbus A340s currently parked in Spain will join the fleet again. There are also adjustments at Austrian, Swiss and Brussels – among other things due to later deliveries or earlier departure. The group will have around 100 fewer planes after the crisis.
Ryanair, which is in comparatively good financial terms, also announced similar measures and closings of various bases.
There will be less flights or any flights at all for some minor destinations. Therefore, businessmen will recur more often to private flights.
Tough times ahead for airliners manufacturers
Both will suffer: Airbus and Boeing. The consulting firm Roland Berger, for example, expects a drop of 27 percent in the need for new aircraft by 2030.
Less air travel
The passenger records of 2019 remain unbroken for quite a while. Some airlines predict that demand will reach pre-crisis levels in 2022. But that is also quite optimistic. The reason for this is not primarily travel restrictions or the fear of infection.
The global economy is facing the biggest recession in a long time. Many people lose their jobs and simply cannot afford to travel anymore. After all, in addition to the plane tickets, hotels, rental cars and pocket money are often required.
New controls, more cleaning
Post-Corona is also likely to change a lot for passengers. It is not yet clear which measures you have to adjust to and which of them will be permanent. Many airlines are currently announcing a mask requirement on the plane. But it is unlikely that this will stop in the long term.
At the beginning, low prices …
When the flight offer is ramped up again, the first thing to be said is: the main thing is that the planes are full. So it should be possible to fly fairly cheaply for a while.
But there is no demand. The airlines therefore offer tickets at dumping prices.
… then higher
But even if there is initially a similar development in Europe – in the medium to long term, we have to be prepared for rising flight prices. On the one hand, this is due to the fact that the offer will be smaller because many airlines go bankrupt, almost all of them become smaller and less profitable routes are canceled. On the other hand, the costs of the providers could also increase.
Stricter cleaning regulations, fever measurements, health checks before the flight – what exactly will change is not yet clear. But all of this costs money. Again, private flights don't require health checks, since you normally fly with your relatives or colleagues, which is a big advantage, especially since if the threat of the virus remains.
And the environment?
Is the industry becoming more climate-friendly? Probably. As I wrote here, electric aircraft are being developed. Still, there are hurdles to be overcome, notably because batteries are too heavy and expensive for big carriers. The 1st electric planes to enter service will be smaller planes: once again private flights will be the 1st to deploy such aircraft, which are very cost-effective to operate: less servicing and no fuel cost, electricity being much cheaper than kerosene.
Cheaper kerosene will favor private flights
The consumption of kerosene per passenger is quite higher for private flights compared to commercial airliners, since the former carry only very few passengers per plane. Since, thanks to the pandemic, kerosene prices will remain much lower for several years, private flights cost should decrease, rendering them more affordable.