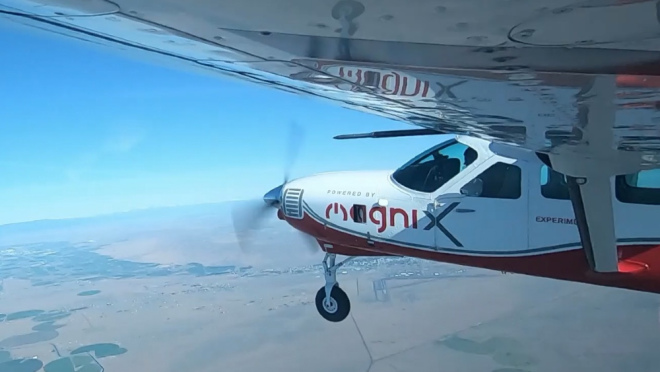 The advantages of an electric plane
The advantages of an electric motor compared to the piston engine for private planes:
expensive maintenance required for the piston engine, which is not necessary for the electric motor:
every 20,000 km, better 10,000: change the engine oil and change the filter. Check the coolant and add more if necessary.
every 30,000 km: replace air filter and spark plugs

Magnix motor

every 100,000 km: replace the timing belt and the cooling system water pump.
As for fuel, it is about six times more expensive than electricity, equal to the kilometers traveled.
engine life: although we don't have a lot of data for electric cars yet, normally an electric motor, which heats very little, and much more durable than an internal combustion engine. there are electric locomotives from the 60s that are still running very well today.
the torque: at equal power, electric motor at about twice the torque of a heat engine, which allows for example the magniX engine to rotate in direct contact with the propeller, without gear reduction, 1900 RPM being sufficient for it.
motor weight: at equal power, an electric motor weighs less than half of a heat engine: the magni500 magniX develops 750 horsepower with a weight of 131 kg. it is nevertheless true that the batteries are heavy, it takes about 3 kg of batteries for each kilometer of autonomous flight.
operating cost: even if we are still in the prototype stage, the manufacturers of electric aircraft all boast a cost per passenger kilometer of less than 0.10 €, similar to that of a diesel car but much lower than that of a piston plane or a jet.
The magniX eCaravan's successful maiden flight
After last December's record-setting electric seaplane demonstration with Harbour Air, magniX has recently set a more impressive record in a larger aircraft. The Harbour Air demonstration showed that a seaplane could work on an electric engine, but the converted Cessna Grand Caravan 208B now holds the title for the world's largest commercial electric aircraft.
The eCaravan has a 750-hp magniX magni500 electric engine, which is significantly larger than the 500 hp electric engine used in the Harbour Air seaplane. The eCaravan flew for 30 minutes near its headquarters above Moses Lake, Wash.
"What magniX learned from the first Harbour Air record is that there is a need and demand for ultra-short flying," Roei Ganzarski, CEO of magniX, told Robb Report. "Only an electric aircraft can answer these needs with today's battery technology."
The Cessna Grand Caravan was chosen as the test aircraft because of its decades-long reputation for moving people and cargo. Ganzarski's company is dedicated to connecting communities by creating an era of clean and affordable commercial air travel with all-electric propulsion. The eCaravan may not be the sexiest aircraft in the sky, but it is the most proven. The Cessna model has been used to move people and cargo over short routes for decades. One of the beauties of this new frontier is that the magniX engine can be used on older aircraft, extending their life far beyond the original design. The partners chose the Cessna Caravan as its test aircraft because it's one of the most common "middle-mile" aircraft (50 to 1,000 miles) in use around the world. "The industry can revitalize its Middle Mile passenger and cargo transportation workhorse as an all-electric solution," Ganzarski said, adding that the magniX magni500 could be a good fit for even larger aircraft. The electric motor produces most of its power at a very efficient 1900 rpm. Fifteen years from now, Ganzarski believes that all flights of less than 1,000 miles will be electric. "These electric flights promise shorter routes with more convenient door-to-door traveling and lower prices, relative to the distance traveled," he says. "This first flight of the eCaravan is another step on the road to operating these middle-mile aircraft at a fraction of the cost, with zero emissions, from and to smaller airports."
Last month's flight will be used in the certification and approval process of the magni500 system, added Ganzarski. MagniX has developed a family of electric motors designed specifically for your commercial aviation application. Be it a single motor application, or as part of a multi-motor aircraft, the magniX motors offer the same level of industry leading redundancy and reliability second to none. The magni250 and magni500 both share a multi 3-phase architecture and turn at 1900RPM enabling a direct to propeller connection. They both integrate with standard propeller governors allowing for seamless adoption of current and future variable-pitch propellers.